---
Impact Factor : 0.658
---
7th National Training Course ON


"MODERN TECHNIQUES IN RESEARCH ON ABIOTICS STRESS TOLERANCE IN PLANTS"
March 06-10, 2017
Brochure
---
One Day International Symposium on


" Establishment of Vegetables Garden with Organic Fertilizers"

13th March, 2017
Pakistan Botanical Society is one of the leading societies that aim to cultivate, promote and disseminate the knowledge of all the branches of plant sciences. In addition, it also aims to undertake activities which are conducive to or necessary for the fulfillment of these objectives and cooperate with other organizations having similar objectives. PBS provides an opportunity to active research workers to present their results and to generate discussions for further planning of their research. Pakistan Journal of Botany is a peer-reviewed bi-monthly publication of the Pakistan Botanical Society.
Publications by PBS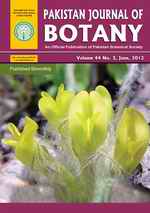 Latest Issue